What is a Extreme Foam Party?
Picture all your friends and family dancing, singing and playing in a huge pile of foamy, refreshing bubbles! Our professional foam cannon shoots your foam party space full of our allergy-free, zero clean-up, environmentally friendly foam. We blast family-friendly music with coordinating lights to really get the party going. As if that isn't enough, your party guest will have a ball in our suds with our beach balls and inflatables.
What areas does Foamtastic Fun cover?
We cover all of North county San Diego,Riverside, Orange County, San Bernardino, and Inland Empire. With no additional charge but can travel outside of this area for a slight travel charge. Just let us know in the Book Now section for a quote to come to your area.
How long should my party be?
The length really depends on your party or event. Birthday, kid parties, Teen events and Family parties are typically hour and a half but can last longer. Other parties such as festivals, schools, daycare centers, graduation parties, corporate events and other large events can be as long as you would like.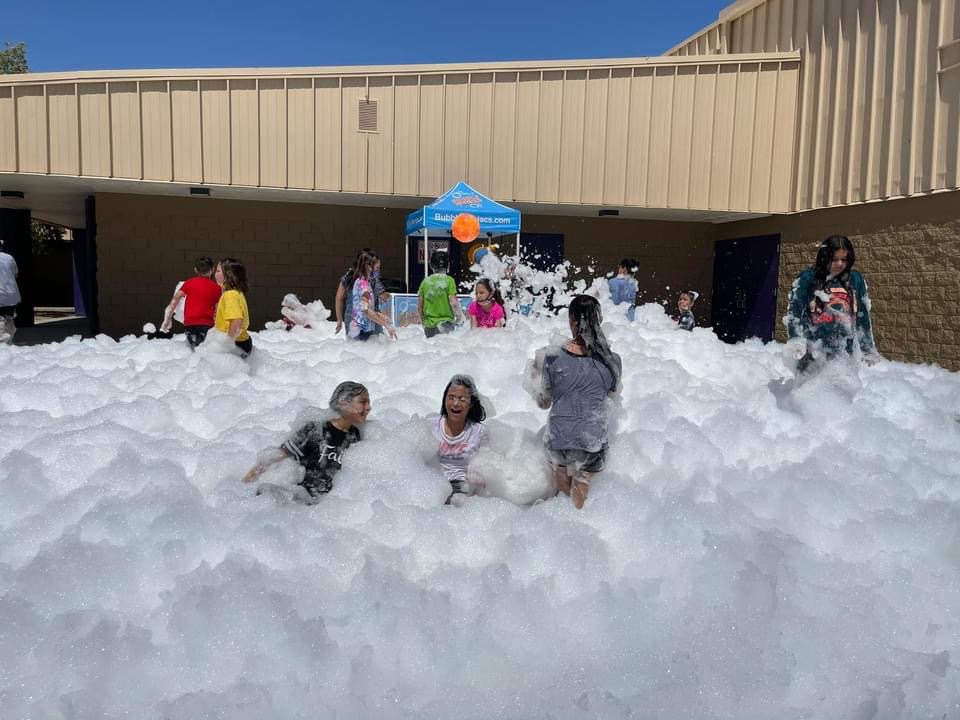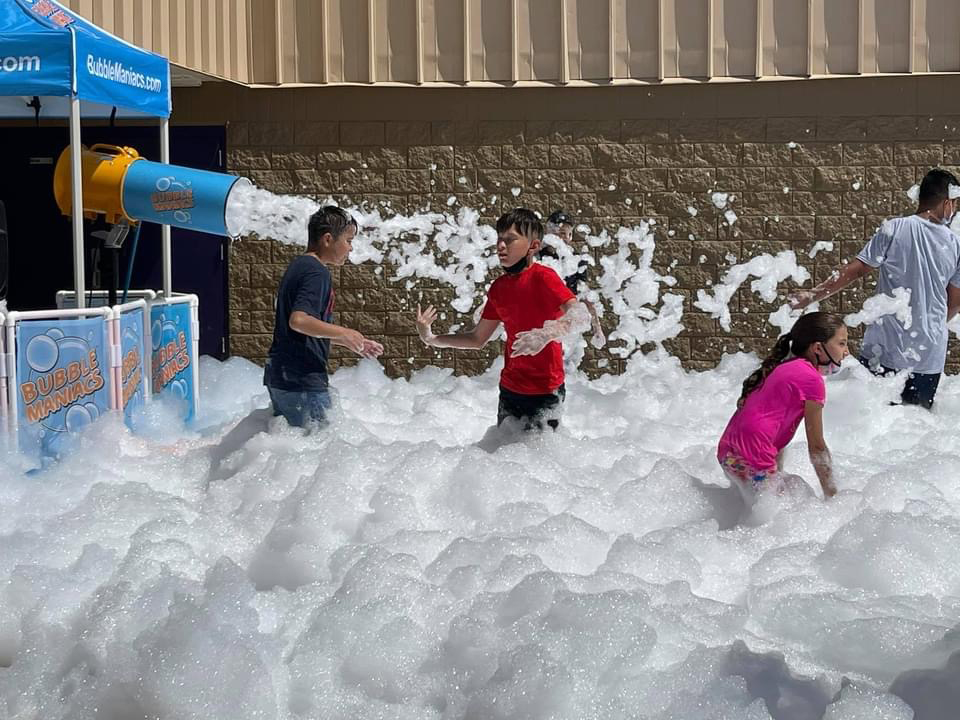 What do I need to provide?
We bring all of the equipment however, we need access to an outside water faucet, an electrical outlet, and space for us to fill with foam. Grassy areas, drive ways, parking lots, or asphalt area can be a great place for your Foamtastic Fun party! We recommend avoiding dirt, dry grass or poorly maintained areas because this makes for a muddy mess. Water hookup and the outlet must be within 100 feet of your foam party area.
What should party guests wear and bring?
We recommended that your guests wear their bathing suits and some sort of shoes on their feet. Depending on how much you play in the foam, you may get damp or even soaked. Guests should also bring a towel (and perhaps a change of clothes).
Is the foam safe?
Yes!  It is Biodegradable, Hypo-allergenic, non-toxic, non-staining and scent free. All of our foam machine solutions are completely biodegradable, keeping the surrounding environment free from harm and eliminating the need for clean-up. Even guests with sensitive skin and allergies can have a blast at your foam party, thanks to the hypo-allergenic formulations of our foam machine solutions. Forget worrying about permanent stains and lasting damage, because our regular solution is non-staining. (Colored foam can stain clothes.) Plus, the unscented solutions won't create a powerful odor or irritate allergies. It's completely safe and won't damage skin, clothes, pets or lawns.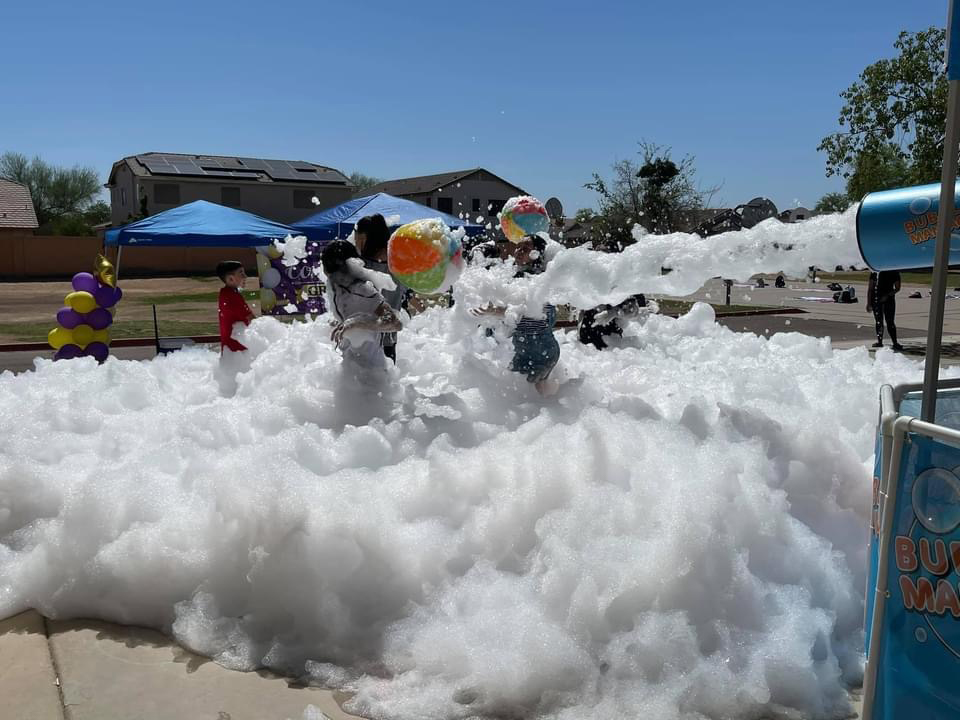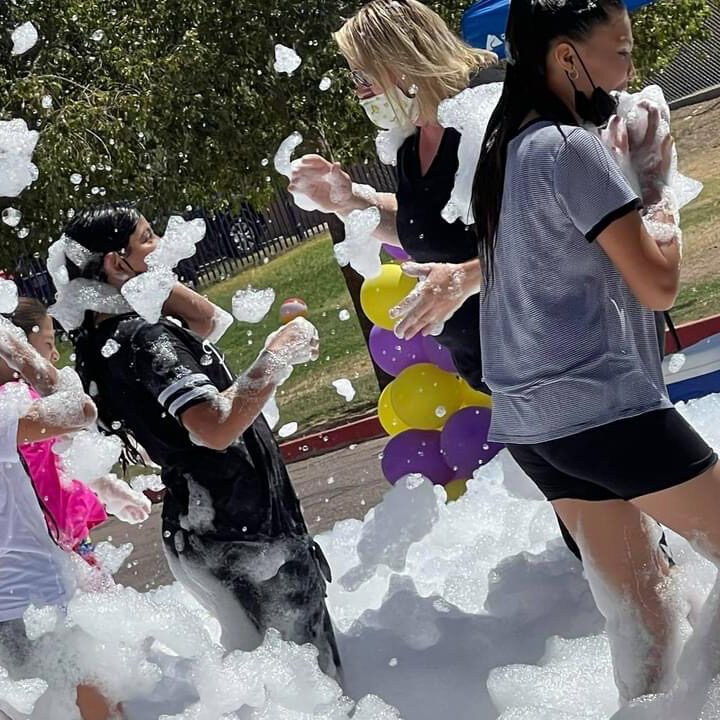 How much water is going to be used?
For an hour long party we will use approximately 80 gallons of water. Although that seems like a lot, it is to about 2 bathtubs full of water – And a whole lot more fun than taking a bath!
What type of music do you play?
We use our Spotify playlist with fun, upbeat and family-friendly music. The music is a mix of popular dance music from the last several decades.
What about COVID and social distancing?
Foamtastic Fun Foam Dance Parties are the perfect activity during COVID. Our foam-makers have barriers to help ensure they remain a safe distance from the participants. Since these parties are outdoors, no ventilation is needed and participants can social distance. Of course, participants are covered in sudsy bubbles so sanitizing is not needed.
Have questions or concerns about our Foam? No problem!
We use only the highest quality solution for our foam. It's bio-degradable, non-staining, non-toxic, and hypoallergenic! It's also safe for babies, pets, the environment including lawns and gardens. Our foam is made up of Sodium Lauryl Sulfate, Glycerol & Water. These are also the main ingredient used in things like shampoo, dish soap, and even toothpaste but without the additional chemicals and perfumes. Sodium Lauryl Sulfate (SLS), a cleaning agent and surfactant, is an ingredient in many personal care and cleaning products. SLS is derived from natural sources like coconut and palm kernel oil.
Multiple scientific bodies have reviewed SLS as an ingredient in personal care and cleaning products and determined its typical use in these applications to be safe for both consumers and the environment. The U.S. Food and Drug Administration (FDA) includes SLS on its list of multipurpose additives allowed as a direct food additive. For more information on SLS please visit. https://www.chemicalsafetyfacts.org/sodium-lauryl-sulfate/
Glycerol, sometimes referred to as glycerin, is sugar alcohol widely used in a variety of personal care products, including toothpaste, hair conditioner, cosmetics, and moisturizers. The U.S. Food and Drug Administration (FDA) is the primary regulator of over-the-counter products and food packaging materials. FDA has approved glycerol for use as an additive to food packaging materials. Glycerol also has been approved for use in skincare products. FDA has placed glycerol on its Generally Recognized as Safe List. For more information on Glycerol please visit. https://www.chemicalsafetyfacts.org/glycerol/